Redakai: Conquer the Kairu
is a French-American animated series based on the upcoming trading card game of the same name. It is co-produced Zodiak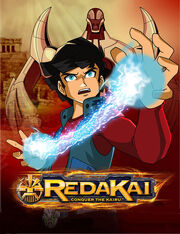 Kids/Marathon Media (Totally Spies, Rekkit Rabbit, Gormiti) and Spin Master (Bakugan). It debuted on Cartoon Network July 16,2011. 52 episodes have been confirmed.
Official Synopsis
"Redakai: Conquer the Kairu is an animated kids adventure series starring Ky, a 15-year-old student of ancient martial arts who embarks on an incredible quest to find the Kairu, a primordial alien energy force. The fate of the world rests on their mission to collect the energy, harness its power and defeat the evil forces of Lokar. The incredible Kairu energy gives him immense powers and the ability to transform into the galaxy's most powerful warrior! Helped by his friends Maya and Boomer who also use the energy, Ky travels the globe looking for the Kairu to protect it from his extraterrestrial teenage opponents, with the hope that one day he will become the greatest Kairu warrior of them all – a Redakai"
References
Edit
Ad blocker interference detected!
Wikia is a free-to-use site that makes money from advertising. We have a modified experience for viewers using ad blockers

Wikia is not accessible if you've made further modifications. Remove the custom ad blocker rule(s) and the page will load as expected.